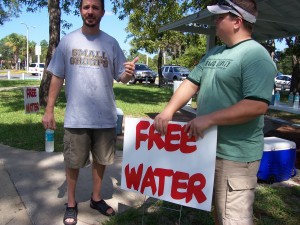 One of the ways we've made Outreach a part of our DNA from the very beginning was through Small Groups. Â When it comes to building community with Small Groups there is nothing like being able to serve together as a group and hopefully bring other people with you on that journey.
Every semester Crosspoint Small Groups head up a couple of outreach projects and at each of those projects we'll have some folks who are unconnected take part as well. Â Here's a Top 5 on the best ways to maximize small group outreach projects as a small group facilitator:
1. Be an inviter – Your small group should never be exclusive, so these projects are another way to invite people to be a part of your group who might not have felt comfortable at someone else's home at first. Â Outreach projects at the part are typically a great first time invite. (see BONUS down at the bottom)
2. Recognize the first timers – Before you begin, find out who has never participated in this type of project before. Â Don't think that just because you have drop off donuts a few times before that everyone knows how to do it or how to even explain what they are doing with others. Â Thank the folks who are there for the first time and share instructions with everyone to put them at ease.
3. Contact AND Follow-Up – This is simple, a phone call reminder the day before and a thank you call the day after will go a long, long way!
4. Celebrate successes and admit failures – Take some time during your small group meetings to share the successes you have had serving others, it will help folks look forward to their time of serving. Â And while you're at it, let them know about some of the failures you've had. Â Some reason hearing that you've already received some "no thank you's" or "get outta heres!" will help put people at ease.
5. Debrief – Talk about your time of serving. Â Let people share their own stories, how they felt, and what they were thinking. Â It's also a great opportunity to share some vision about why we do what we do.
BONUS: Make a day of it! – Outreach doesn't have to just be an "In and Out" experience. Â Take the opportunity to serve and play with your Small Group. Â Some of the best experiences as a community come when you spend some time serving the park that you will later hang out in. Â So hand out some waters, and then huddle up under a pavilion for a group picnic.
This isn't a top 5 about guaranteed results, this is all about making the experience a memorable and life-changing event not just for those who get served, but also for those who are serving!