The other day I posted some ideas for serving on the go. Here are some tips to back those ideas up!
Tips:
#1. Be a noticer – Pay attention to your surroundings, eavesdrop, be a people watcher, either way you'll never know the opportunities to make a difference in someone's life if you're not looking.  Jesus was a noticer, I often think about his teaching on "The Widow's Mite".  Jesus was at the temple and through people watching he noticed a woman who gave everything she had in one tiny mite.
#2. Keep outreach/Invite cards handy – This is all about equipping.  An act of kindness without some form of connection is simply a random act of kindness.  Now, while those are great and all, the opportunity to match your act of kindness with an opportunity to connect with Jesus is priceless!
Here are a couple of examples of what we use at Crosspoint.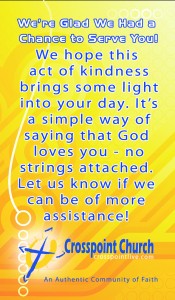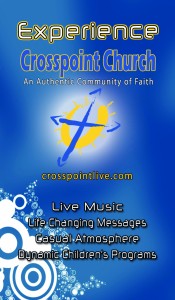 #3. Let them know why you do what you do. – There's usually an opportunity that pops up when someone says "Why are you doing this?"  That's when I take the opportunity to say, "I just wanted to show you God's love in a practical way!" A simple sentence with a BIG impact!
If you want to find out more about Servant Evangelism and Outreach check out these books below or visit ServantEvangelism.com: